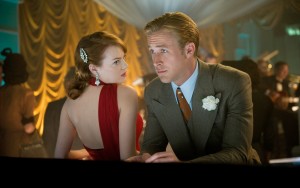 The first big release of 2013 is getting a shellacking from our critics. Click on the links below for full reviews.
Ruben Fleischer's Gangster Squad 
Glenn Heath Jr – Slant Magazine 
"A Cartoonish Gangster Exercise…"
Ian Forbes – Sobering Conclusion
A ho-hum gangster flick that's not worth much more than a lazy afternoon on free cable.
David Pinson – CinemaStance
"Not the Noir You Were Looking For."
Josh Board – Fox 5
"The script from The Untouchables, and characters from Dick Tracy…"
Ted Gedeonse – San Diego LGBT Weekly
"Rat-a-tat-tat."
Diana Saenger – Review Express
"I was glued to the screen."
Updated 1/15.