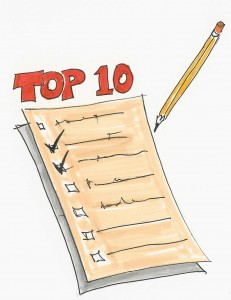 Happy New Year! Our first resolution of 2013 is to help inform more readers about our diverse membership and their work. So starting now, SDFCS will begin a weekly roundup of collected works by our critics.
First up in 2013: Top 10 Lists galore!
See the 2012 films our members found most worthy by clicking on the links below.
Rebecca Murray from About.com has a surprising #1 pick: Silver Lining's Playbook.
David Pinson of CinemaStance.com recognizes the under-appreciated Hit and Run, in at #10.
Kevin Finnerty of Showbiz Junkies has selected a diverse group indeed, including End of Watch, ParaNorman, and Seven Psychopaths.
Glenn Heath Jr. of Slant Magazine champions Jafar Panahi and Mojtaba Mirtahmasb's This is Not a Film.
Scott Marks of The San Diego Reader offers his 2012 film year in review: Best, worst, and even a few guilty pleasures.
At his blog Sobering Conclusion, Ian Forbes muses about the highs and many low lows of 2012.
U-T San Diego film critic Alison Gang offers up some wonderful insight about her favorite films of the year.
Diana Saenger's Top 10 list is now up at Review Express.
Lance Carter of The Daily Actor includes the lovely Hello I Must Be Going, among others unique choices.
Yazdi Pithavala champions Life of Pi and Cloud Atlas, among others at his blog, Spaces in My Mind.
Josh Board's Top 10 List is a mosaic of great offbeat choices. Check it out over at Fox 5.
The Movie Maven, aka Jeri Jacquin, logs her Top 10 films of 2012 with notes.
San Diego CityBeat film critic Anders Wright gives love to a range of films as diverse as Starlet and Zero Dark Thirty.
Ted Gideonse expresses his love for gems like Bernie, How to Survive a Plague, and Moonrise Kingdom at LGBT Weekly.
As always, thanks for reading!